Guleid Rooble
Customer Development, Events and Marketing Coordinator
Guleid joined Macildowie in 2021 as a Customer Development, Events and Marketing Coordinator and has various roles in digitalising our marketing strategy and flexible sales funnels to support our marketing team. Guleid role involves working closely with consultants and sales-focused team members exploring vital marketing intelligence to enable us to capitalise on market share. Not only does Guleid specialise in customer relationship management as this is a pivotal in taking out new services offering to market for candidate and clients attraction. He is driven by the desire to learn new skills and develop his career path as a professional marketer.
Guleid is also part of the Environmental and sustainability Action group in supporting Macildowie to move along its journey to becoming carbon neutral with meaningful impact.
The E&S Action group's goal is to educate employees about sustainability, promote a healthy work environment, and reduce the environmental impact of our office. The group also aims to educate Macildowie clients on what they can do to help fight climate change.
Guleid studied for a master's degree in strategic and digital marketing and holds an honorific title awarded by The Institute Data & Marketing certification in direct and digital marketing (Cert. DDM), Guleid has a passion for strategic business growth. Guleid is ambitious and driven towards building his career at Macildowie and delving further into marketing within the business over time through new experience and learning from other team members.
Guleid Rooble enjoys...
Guleid will be the first to admit he is a workaholic, but his love of fashion has enabled him to combine his two passions – work and style. He enjoys keeping active and reading books on personal development, motivation, and mindset, and spends most weekends being a volunteer for his local charity.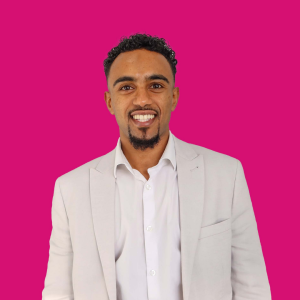 This email address is being protected from spambots. You need JavaScript enabled to view it.